What Is The Best Music For Church Weddings?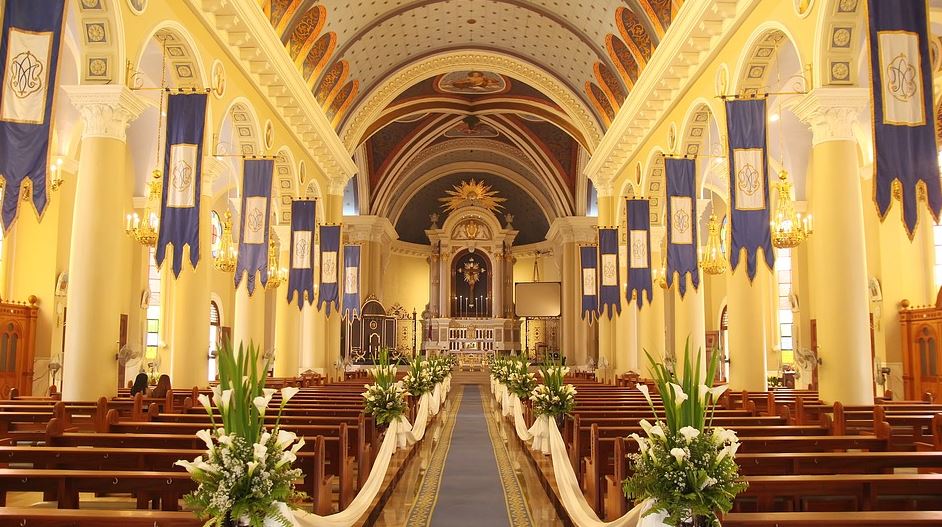 When you hear the first few notes of a song, it can take you back to a place or a tine and make you feel an array of emotions. You may feel elated and happy, or you can become teary-eyed depending on the song you are listening to. With that said, it is important that you take the time to make the right musical choices for your church wedding.
Your wedding ceremony will be filled to the top with many unforgettable precious moments and the soundtrack to those moments will linger with both you, your wedding party and your guests long after the rice and confetti have been tossed on the two of you.
Whilst you nervously make your big entrance, when you are lighting the unity candle, during the signing at the register and even walking out of the church with your spouse as a newly married couple are just some of the special moments that will last a lifetime. The one way you can make these moments even more special is your music choice.
If you are currently in the middle of planning your wedding ceremony and you have arrived at the point where you need to select the music for your church wedding, it can be difficult to narrow down the choices especially when you have so many other things to do. It may be best to hire a church wedding band.
The following brief guide will show you the different points within your church wedding ceremony where you will need to have some music playing, and a list of song choices you can consider.
This wealth of song options are suitable for a church wedding, and some can even be played at humanist and civil ceremonies. However, if you are having a wedding in a church, you will need to speak with the parish/priest before you make your final song choices because there may be some restrictions on the songs you want to play.
Song Selections During A Church Wedding 
During the processional, the music will begin to play as soon as the first one in the bridal party enters into the sanctuary. This music will be played until the priest/pastor greets the couple and the couple, the couple is sitting in their seats and mass is about to begin.
These are some song choices: 
 You Raise Me Up
 To Make You Feel My Love
 In A Country Church Yard
 Marry Me by Train
 Warm by the Coronas
 God's Plan by Derek Ryan
 Nella Fantasia
 Air on G String – an instrumental
The Lighting Of The Solo Candles 
During this part of the wedding ceremony, the bride and the groom both light a candle that represents themselves. This usually does not take any longer than 30 seconds, but music can be played during this time. An instrumental piece would be ideal.
Some choices are: 
 Wedding March by Mendelssohn (an instrumental)
 Gabriel's Oboe (an instrumental)
 Air on the G String (an instrumental)
 Bridal Chorus by Wagner (an instrumental)
For The Responsorial Psalm 
 Only in God
 Eagles Wings
 The Lord is My Shepherd
 Mo Grathu
For The Gospel Acclamation 

Marriage Candle Lighting 
At this point in the wedding ceremony, the couple will light another candle at the same time. This candle is a symbol of the two individuals coming together as one.
Again, an instrumental song can be played during this 20 to 30 seconds that it takes for the candle to be lit. The music that was played during the individual candle lighting can also be used during this time.
During Offertory 
 Amazing Grace
 Take Our Bread
 In Bread We Bring You Lord
Holy Holy And Mystery Of Faith 
These songs can be sung or they can be spoken. For Mystery of Faith, you can select 'He is Lord'.
During Sign Of Peace 
 Shalom, My Friend
 I Wish You Peace
 Peace Perfect Peace
 Instrumentals previously mentioned
During Communion 
Typically, during communion, it is best to use liturgical music for your church wedding. Choose at least one hymn that could be played during communion, but depending on how many guests are in attendance, two songs may need to be played.
 One Bread, One Cup
 Amazing Grace
 The Prayer
 Make Me a Channel Of Your Peace
 Be Thou My Vision
 I Watch The Sunrise
 Fields of Gold
 Cloud's Veil
 As I Kneel Before You
Keep in mind that all of the songs that are listed are merely examples. You are free to choose any type of liturgical song you like.

The Signing Of The Civil Register 
This is part of the wedding ceremony where mass has ended and the couple signs all legal documents. During this part of the wedding ceremony, you will likely have more flexibility when it comes to your choice of songs.
Usually, during the signing of the civil register, you can choose to have wide range of songs played as long as they are within reason. At this point, you may need to choose up to three songs. The final number of songs you will need will depend on the number of pictures that the photographer decides to take whilst inside the church.
 I'll Always Love
 Footprints in the Sand by Leona Lewis
 All I Want Is You by U2
 Chasing Cars
 When You Say Nothing at All
 Isn't She Lovely
 Endless Love
Recessional 
This is it! You are officially married and many couples choose songs that are upbeat such as:
 My Girl
 Higher and Higher
 Shine Silently
 Perfect Day
 Walking on Sunshine
Even with all of these songs listed, they represent a small sampling of some of the best music for your church wedding. If you are planning to get married during the holidays, you can choose themed hymns and songs to keep your wedding ceremony festive.